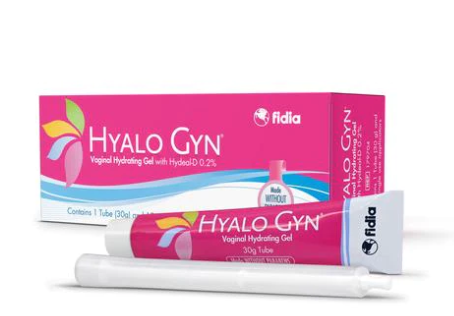 Hyalo Gyn Vaginal Hydrating Gel 陰道保濕劑 1 Tube (30G) and 10 single use applicators
Quick View
陰道保濕劑是一種可消除陰道乾燥和康復的非激素非處方藥。提供腫瘤治療後或突然停經的女性的需要。 HYALO GYN® is a personal lubricant intended to moisturize and lubricate to enhance the ease and comfort of intimate sexual activity and supplement the body's natural lubrication. HYALO GYN® 1...

Vendor: Hyalo Gyn
陰道保濕劑是一種可消除陰道乾燥和康復的非激素非處方藥。

提供

腫瘤治療後或突然停經的女性的需要

。
HYALO GYN
®
 is a personal lubricant intended to moisturize and lubricate to enhance the ease and comfort of intimate sexual activity and supplement the body's natural lubrication.
HYALO GYN® 1 Tube (30G) and 10 single use applicators

composition
Principal component : Hydeal- D 0.2%(an ester of hyaluronic acid)
Other components : Propylene glycol , Methylpropanediol, carbomer , 1,2- Hexanediol, Caprylyl glycol, Sodium hydroxide, Purified water .
Indications 
Gel complementary to treatment for vaginal dryness of various origin; aid in the natural healing process of friction-induced microlesions in the vaginal mucosa  
How to apply the product:

Screw the applicator (complete with plunger) onto the opening of the tube.
Pull the plunger back until the piston is about halfway up the applicator.
Squeeze the tube and fill the applicator up to the piston.
Unscrew the applicator from the tube and, after thoroughly washing your hands and the area around your vagina, insert it into the vagina while assuming a crouching or supine (laying down) position.
Push the plunger until all the gel has been expelled.
Extract the applicator. The applicators are for single use only and must be discarded after use.
In cases of severe dryness, it is advisable to expel a small amount of gel from the applicator before use, so that the tip is lubricated before being introduced into the vagina.