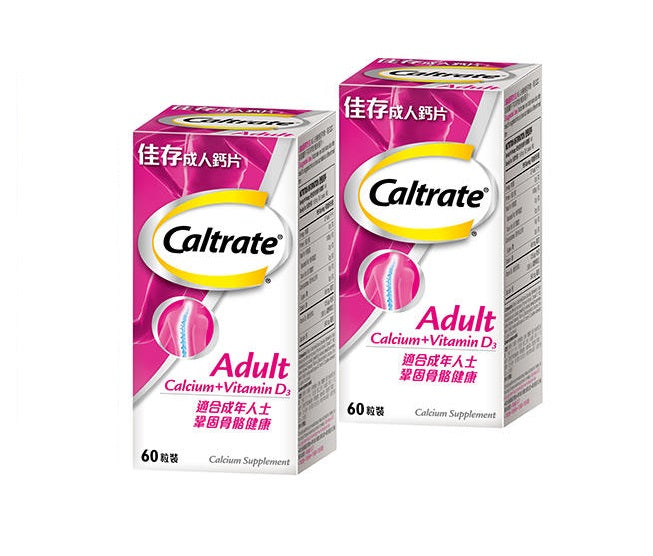 Caltrate 佳存 成人鈣片 Adult - Calcium + Vitamin D3
Quick View
佳存成人鈣片是一種高效能鈣質補充劑,能有效被攝取,每粒提供540毫克鈣質,另添加維他命D3 500IU以幫助鈣質吸收及運用, 有助鞏固骨骼健康。適合成年人士服用的鈣片,提供鈣及維他命D有助鞏固骨骼健康,撐起良好體態. Caltrate with Vitamin D 500IU is a high potency calcium supplement providing elemental calcium with 500IU of vitamin D, to help optimise the absorption of calcium in your...

Vendor: Caltrate
佳存成人鈣片是一種高效能鈣質補充劑,能有效被攝取,每粒提供540毫克鈣質,另添加維他命D3 500IU以幫助鈣質吸收及運用, 有助鞏固骨骼健康。
適合成年人士服用的鈣片,提供鈣及維他命D有助鞏固骨骼健康,撐起良好體態. 
Caltrate with Vitamin D 500IU is a high potency calcium supplement providing elemental calcium with 500IU of vitamin D, to help optimise the absorption of calcium in your body.


適合成年人士服用的鈣片,提供鈣及維他命D有助鞏固骨骼健康,撐起良好體態
使用方法
成人在餐後服用1粒,每日2次;並建議於不同時間的餐後服用。
注意事項
● 請勿超過建議服用劑量
● 請存放於兒童無法取得之處
● 請勿接受封口已損或缺掉的產品
優點
(1) 高濃度鈣質,有助維持理想骨質
(2) 加強維他命D500IU,維持肌肉強度
(3) 不含乳糖,每日2粒,助你維持良好體態
Suitable for Adult. Provides Calcium and Vitamin D to support your bone health and maintain good body shape
Pieces per Container
60's
Product Usage
Adults take one tablet twice daily after meal. It is suggested that you have each tablet at a different meal time.
Product Warnings
Do not exceed the recommended dosage. Keep out of reach of children. Do not accept if tamper evident seal is broken or missing
Storage Condition
Store below 30°C
Benefit
(1) High potency of Calcium, help to achieve ideal body mass;
(2) Increase Vit D to 500IU for muscle strength
(3) Lactose Free. 2 tabs daily, helps maintain good body shape